Gifts

Siduri Gift Collections
We've seen the usual wine pairings for Pinot Noir with cheese, fish, chicken, but have you seen a cured meat pairing? Siduri is never known for the usual, so when the opportunity arose to collaborate with another local Sonoma County brand, we jumped at the opportunity.
Less than three blocks away from the Siduri Lounge is Journeyman Meat Co. Crafting artisanal cured meats in the traditional Italian style. Just like Siduri, Journeyman's seeks the highest quality product from the same West Coast locations as Siduri's vineyards, and puts the customer's experience first in the endless journey to create the very best from the product the land offers.
Our Winemaker, Matt Revelette, and Journeyman Meat Co. founder and Salumi Artisan, Pete Seghesio, met on a sunny Tuesday afternoon. Matt had bottles of wine in hand, and Pete greeted him at the door of Journeyman's super cool and posh store front just off the Healdsburg Square. After introductions were made it took Matt no time at all to crack open the first Siduri wine, and Pete to make sure they had their wine glasses at the ready. Then the games began...sipping wine and tasting thin slices of artisanal salumi. It's all fun and games until that moment that first distinguished and delectable pairing makes itself known.
Pinot Noir is a food friendly wine in general and can be paired with a wide range of foods. The three we've paired extend perfect levels of brisk and vibrant acidity and unique earth and fruit notes that are highlighted exceptionally with each salumi's fattiness, smoked meat, and herbaceous qualities.
Matt and Pete, as Pinot Noir and salumi sycophant's, paired these wines with their perfect salumis for you to enjoy. We have an extremely limited number of pairings available, so please browse them below and grab one or all three to enjoy at home!
2018 Ewald Vineyard & Sauccison Sec Gift Pack Gift Set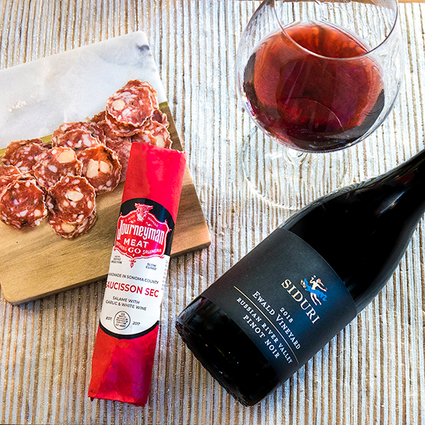 This salame with garlic and white wine is exquisite with Ewald's freshness and intermingles flawlessly with the wine's flavors of cherry and spices enhancing the wine's earthy undertones.
Includes:
(1) 2018 Ewald Vineyard Pinot Noir
(1) 6oz Sauccison Sec Chub
(1) Gift Box
(1) Shipping
2018 Lingenfelder Vineyard & Parmigiano and Porcini Gift Pack Gift Set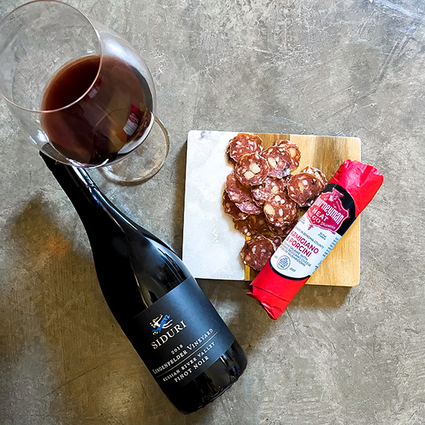 Combining the savory flavor of porcini with the umami of Parmigiano Reggiano creates a rich and expressive salame. The salty cheese and earthy mushroom pairs perfectly with Lingenfelder's dark fruit notes and brisk acidity.
Includes:
(1) 2018 Lingenfelder Vineyard Pinot Noir
(1) 6oz Parmigiano and Porcini Chub
(1) Gift Box
(1) Shipping
2018 Van Der Kamp & Finocchiona Gift Pack Gift Set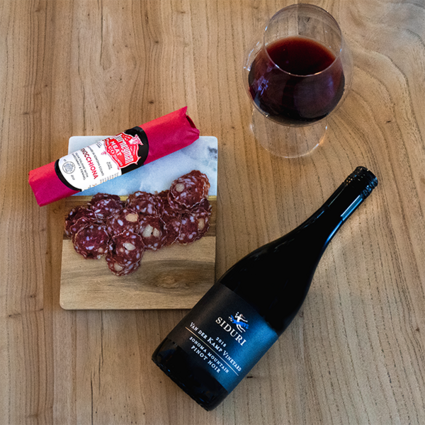 With three components of fennel and notes of white wine, the Finocchiona brings out the savory nuances of Van der Kamp, elevating the succulent earthy notes creating a mouthwatering experience.
Includes:
(1) 2018 Van der Kamp Vineyard Pinot Noir
(1) 6oz Finocchiona Chub
(1) Gift Box
(1) Shipping