National Fried Chicken Day! | What's Your Favorite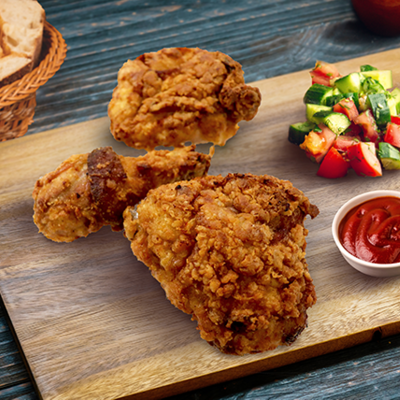 Fried chicken is one of the most scrumdiliumcious guilty pleasures hands down. The crisp seasoned outside and the warm juicy inside, and oh so much variety that you couldn't possibly get bored. There is such a following they've even made July 2nd  National Fried Chicken Day. Did you know it's been found in cook books as far back as the 1800's?
We all sat down and argued over the best style of Fried Chicken, but really you can't go wrong with any of them. Join us in raising a glass of Siduri to one of the tastiest meals and let us know what your favorites are! Use #SiduriChicken on any social platform, so we can see and hear about your mouthwatering fried chickens.
What OUR team is pairing
"One of my favorites is the Nashville Hot Chicken. There is this great place a few blocks from Nashville's downtown area that creates some master pieces. I've tried to replicate this myself and I have to say that I've shed some tears...not because my rendition is so good, but that heat will get you! A few sips of the Willamette Valley Chardonnay in between bites makes it all worth it." - Stephanie, Wine Club Manager
"I LOVE mixing in some parmesan to the crispy exterior of some good extra crispy fried chicken. A little extra saltiness is exceptional! Pour me a glass of John Sebastiano to go with it and I am in heaven!" - Kieran, Sales Manager
"Buttermilk all the way! That extra fat and moisture creates such an amazing flavor and texture to the chicken. The right amount of salt, pepper, and paprika and we're in business. Just have to have my glass of Edmeades Vineyard along side to complete the meal. We so have to  feature fried chicken at our next event now. 😂 " - Sherrie, Wine Club Coordinator