What is Tim drinking out on the lake?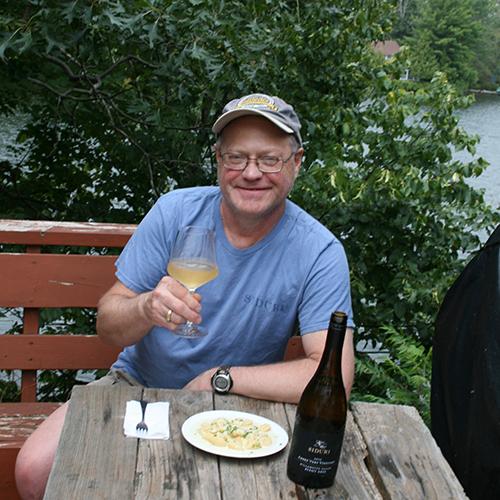 Hello everyone! I'm Tim Soberick, Tasting Room Host at the Sidury Winery in Santa Rosa. I'd like to share my recipe for gnocchi al gorgonzola, which pairs nicely with our 2015 Arbre Vert Pinot Gris. This is one of the first dishes I learned to make when I lived in Florence, Italy back in the 1985, when I performed there with the orchestra. Now I make it almost every year when it is my turn to cook at our island in Ontario, Canada. The island has been in my family since the 1920's. It is a quick and simple recipe, and one of everyone's favorites here. I usually buy the freshly made gnocchi, but if you have the time, I've included that recipe as well. This served as a first course, and the proportions are as such. If purchasing the gnocchi, I usually get 2-3 lbs. Serves 8 people.
Cheers,
Tim
GNOCCHI AL GORGONZOLA
Gnocchi
2/12 lbs russet potatoes
1 large egg
2 cups all purpose flour
1 teaspoon salt
Pierce potatoes several times with for. Microwave until tender, turning once (about 16 minutes). Cut potatoes in half lengthwise, and scoop out into a bowl; discard skins. Mash potatoes until smooth. Mix in egg. Sift flour and salt over mixture and stir to combine. Knead gently. Divide into 8 piecs. Roll out each piece into ½ inch diameter rope. Cut into 1 incn legths and make grooves with fork.
Cook Gnocchi in a large pot of boiling salted water until gnocchi floats to top, about 5 minutes. With slotted spoon, transfer to warm platter.
Gorgonzola Sauce:
2 tablespoons olive oil
1 garlic clove, finely chopped
1 pint heavy whipping cream
4-6 oz. gorgonzola cheese, cut in small pieces  (depending upon the taste you like…I always use more!)
Black pepper (fresh ground)
Grated Parmesan cheese
Finely chopped fresh chives.
In a saucepan, over medium heat, saute garlic in oil, but do not brown.
Add cream, bring to simmer, then add gorgonzola, whisking until melted. Add a few turns of pepper.
Spoon over Gnocchi. (I usually plate separately)
Sprinkle with chives and parmesan, and serve.
Buon Appetito!