This Just In! Siduri has a Chardonnay!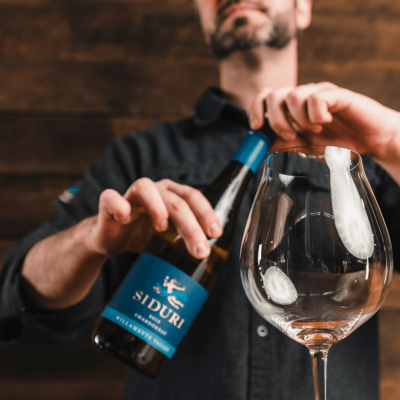 Willamette Valley Chardonnays are united by an electric, finessed, savory and powerful style, driven the region's terroir.
Propelling off this stylistic foundation, Matt Revelette, Siduri Winemaker, is pushing the boundaries of this varietal, showcasing the unique expression of the region.
We are thrilled to announce the addition of this amazing Willamette Valley Chardonnay to the Siduri portfolio, and hope you enjoy it as much as we do.
Watch Matt Revelette out in the vineyard to talk about all things concerning the Willamette Valley Chardonnay
---
"I've always loved making Chardonnay – and the opportunity to work with some of my favorite vineyards during my first year in order to make a Chardonnay that is uniquely Siduri – was simply too good to pass up. We've produced white wines before at Siduri but never Chardonnay and I think that the Willamette Valley Chardonnay is such a natural fit for us. I'm thrilled to be able to share it!
There's a freshness and just a different energy to Willamette Valley Chardonnays – and the attraction of being in a growing area that is only recently beginning to tap into the potential of Chardonnay is really exciting. Willamette Valley Pinot Noir is long established, but Chardonnay has really started hitting its stride over the last couple of decades. We wanted to be able to make a wine that has Siduri's signature style with weight and structure, but also loads of freshness and acidity straight from the vineyard. Being in the Pacific Northwest, it pairs ideally with salmon dishes and has that "deliciousness" factor we always strive for. We hope you enjoy drinking it as much as we enjoyed making it!"
Matt Revelette - Winemaker
---
The cool climate Willamette Valley growing region is bounded by two mountain ranges, the Coast and Cascade. Formed by tectonic plate shifting and buckling, they provide a rain shadow allowing for warm, dry summers. Chardonnay grapes achieve full ripeness here, bathed in endless sunshine during the growing season, while cooling Pacific Ocean winds maintain Oregon's famed electric acidity.
The resulting regional Chardonnay identity is bright, focused, sophisticated, and powerful, while a deeper exploration of the Willamette Valley sub-AVAs' unique terroir illuminates a kaleidoscope of expressions and stunning stylistic breadth.